Presenting the Massive Worlds Toolkit
By popular demand of both Patrons and Clients, 
Presenting a Houdini centric Framework for massive open world generation in Unreal Engine 5.1.
Providing a new and powerful pipeline for open world building, the "Massive Worlds" toolkit empowers you to use your Houdini Digital Assets with Unreal, at a scale that simply wasn't possible before.
With this toolkit you will be able to create, manage and operate a Houdini based Streaming Proxy Landscape pipeline in Unreal 5.1. It is based on nearly a decade of experience crafting massive open worlds for video games and employs some of the best practices I know.
Leveraging new Unreal 5.1 features, such as Landscape Edit Layers, this set of Houdini nodes will empower your pipeline, allowing you to procedurally shape your worlds in the Unreal Engine like never before.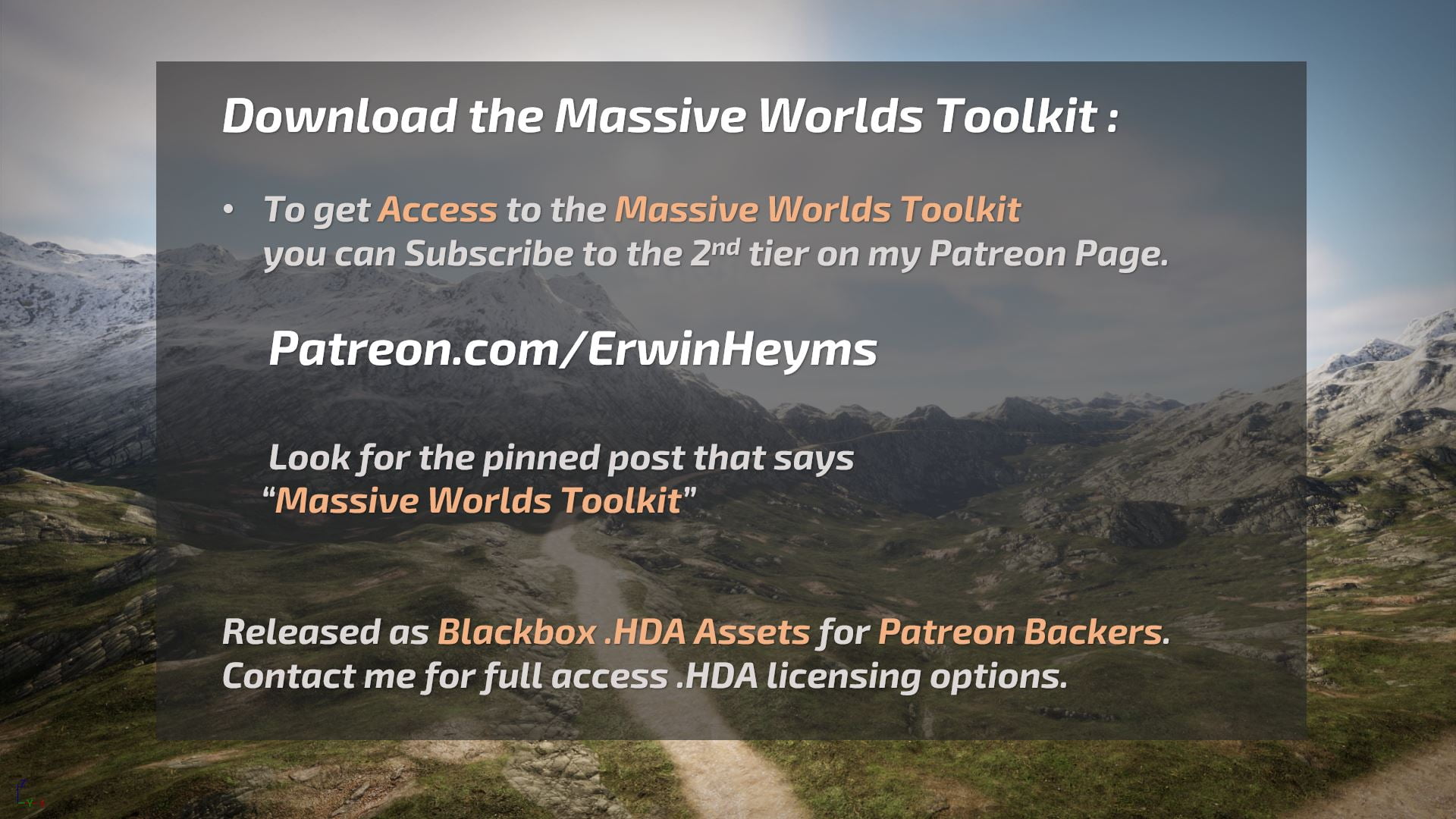 To get Access to the Massive Worlds Toolkit you can Subscribe to the 2nd tier on my Patreon Page here.
Extract Unreal Landscape
This tool extracts the Unreal Streaming Proxy based Landscape to a Cache file for other MW tools to use.
Process And Export Tiles
The Core asset of the toolset. The PNET node allows Houdini to Import, Composite and Export Streaming Proxy tiles to and from Unreal with minimal data loss.
Load Layers
This utility asset loads on demand the Layer information stored in the Tile Cache. Can both transfer data to input geometry and output Heightmaps on demand.
Path Editor
A recursive pathfinding tool, that allows you to interactively draw roads on large terrains to create complex, realistically winding networks of roads.
Currently, the toolkit contains the following features:
Future planned improvements:    
I had the honor of being able to test the Massive Worlds toolset.
After few minutes I was able to understand how each asset worked and where each one fit in the pipeline, but I also understood the potential of this toolset.
It is not a simple toolset that allows you to exceed the size limit of the terrains in unreal, but it is a complete overhaul on how terrains of this magnitude are generated. It allows you to have a solid foundation on which to start developing your tools, expand your landscape, iterate quickly, and overcome limitations we had before.
Now the limit is what your computer's memory can support.
Mr. Erwin Heyms was of incredible help to us in order to understand the landscape workflow from Houdini into Unreal Engine and his tools were essential for this task.
He is one of the most dedicated persons I've seen when it comes to mentoring and it is noticeable that he loves what he does. I hope to work with him again in the future.
We'd definitely recommend his services.